On November 30, 2015
8 Comments
Catholic, Collective Memory, Faith
The other day I came across an old post on LikeMotherLikeDaughter.org that tackled the idea of how to approach the stations of the cross with small kids. In reading it, I was struck by how much Auntie Leila would have enjoyed being friends with my dad, who was the epitome of someone who lived his faith. Auntie Leila writes:
You need to go there so that you can pray the Stations as your devotion. Not to "teach" the kids. They are coming along because they go places with you….Will they have no clue as to what's going on? Pretty much.

That's okay. Little by little it will dawn on them. It may take years (and will certainly take years in the case of the one-year-old, of course).

The important thing is that they experience it as something outside of themselves, something about Jesus, something that inspires wonder precisely because it's mysterious and desperately sad and also beautiful. They will sense a closeness to Jesus, if only through your own closeness.

That is living your Lent with them.

Don't require affirmation from them. Don't look for signs that they are getting it or experiencing wonder. Just live it.
And that was my childhood with my dad to a T. We said the Rosary daily, sometimes more than once a day if we were squabbling in the backseat of the car. We went to Mass and confession every first Saturday of the month. Stations were a given in Lent. We said grace before every meal and the Angelus as close to the sixes and twelves as possible, generally as soon as we got in the car to go to school, noon, and around dinner time. My dad blessed us each with holy water every single night. Going to midnight Mass on Christmas at St. John Cantius was something I started doing as a toddler, and continued doing with my father up until the year he got sick.
Meanwhile, my dad was running a monthly Catholic newspaper out of our house, with a circulation of about 10,000, a Catholic hotline–back before the Internet was around to keep the devout informed of which bishops were attempting to defy the Vatican, and organizing regional Catholic conferences. At one point my dad was the executive director of Chicago's Catholic League.
My dad lived his faith and took us along for the ride. I cannot think of a single time my parents had us make a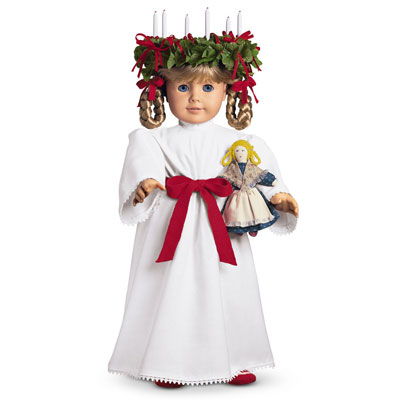 religious-themed craft in order to better understand some saint's day. The closest we ever got was the way my mom made a St. Lucia's costume because my sister had an American Girl doll with such a costume, and it was really cute to have my sister match her Kirsten doll. We made Christmas cookies and watched a lot of high quality movies in the evenings, decorated the house with garlands and whatnot for Christmas, but that was the extent of it. Christmas morning was probably pretty typical for a lot of American families: many gifts, a big breakfast, getting dressed for the party at a relative's house, and then going to the party. Having gone to midnight Mass, I don't actually remember what my mom and sisters did for Christmas Mass, but they probably went to an 8 or 9 AM Mass while I was sleeping off the effects of getting home at 3 or 4 AM.
My parents didn't seem to have the anxiety that a lot of parents online seem to have: how do I make our religion magical and guarantee that my kids will love it and live it forever? Are there enough Jesse Tree ornaments in the world to make that happen?
My parents were just old enough to have been steeped in the Catholicism that was there pre-Vatican II, with the super-high rates of Mass attendance, larger families, and families sending all their kids to Catholic school. They were young enough to be fortified by sticking with the Church through the turmoil that followed Vatican II (turmoil that was likely due to the seismic shifts going on in the broader culture than to Vatican II itself). By the time I was growing up in their household, they had been molded, my dad in particular, into Catholics with the joie de combat (the joy of the battle). They were in it to win it, regardless of how uncool that made us to the vast majority of fellow Catholics who were "Catholic", but had no intention of being open to life, or living out the teachings of the Church when that involved sacrifice.
Years later, I know so many fallen away Catholics, mostly from homes where being Catholic was like belonging to a club, rather than a bloodline. They don't know how healing it is to go to confession because they were seven the last time they went. (And being forgiven for "hitting my brother" isn't nearly as much of a relief as being forgiven for the sorts of trouble one gets into in later years.) They don't understand how an hour of adoration before the Blessed Sacrament will soon become the pinnacle of one's week, because they don't know this is even a thing, and they probably think the Eucharist is just a symbol anyway. (How else could you keep receiving it after twenty years away from the confessional, Mom and Dad?)
I've thought about why the faith seems to have "stuck" with the kids in my family to a degree that doesn't seem typical, and I have to conclude that it is because of the way my dad just lived his life as a Catholic in all things. There weren't these little areas of his life where we could see him saying, "Well, the Church is outdated on this issue, so I am going to do as I please." He wasn't apologetic for the Church's stance on anything. He loved the Church and he was never ashamed of Her.
The end result of this authentic living and loving of his faith meant that my father bequeathed to his kids the same joy of the battle, the same feckless love of the truth, the same willingness to live and love the harder callings of the Church that were so much of who he was. My parents couldn't have talked me into that, helped me craft my way to that, or forced me to be that way, anymore than they could have made me speak a language that wasn't spoken in our home. As Scott Hahn says, "More is caught than taught."
As my husband and I build our family's culture and traditions, blending what we loved from our own upbringings and introducing things that answer longings we've always had, it's a comfort to know that we don't have to get everything right. It's okay if the only things we manage to do well are live and love our faith, and never get to Advanced Catholic Crafting.
Living and loving our faith is not only the best way to share that faith with our children, it's the only way.